A Life-Changing Experience: Implanting Microchips in Rhinos at Shamwari
January 4, 2017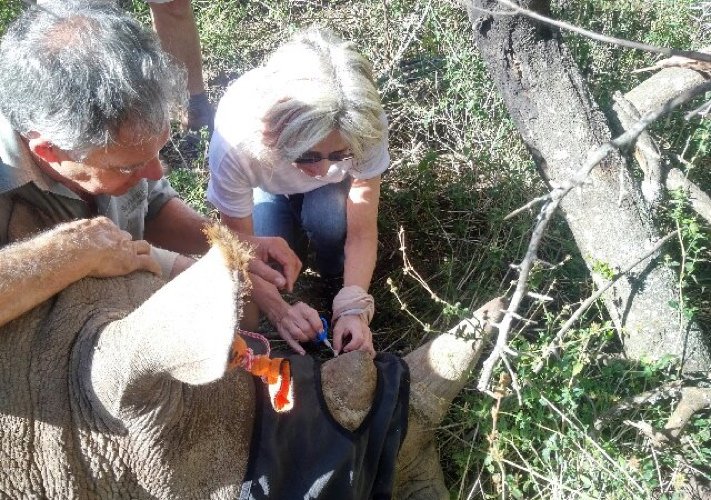 An Early Morning and a Big Surprise
After we arrived at Shamwari, the staff told us to prepare for a special surprise early the next morning. The next day, Dr. Johan, head veterinarian, and John, an ecologist, and the anti-poaching unit, met us and revealed the big surprise: we were going to implant microchips in rhinos! South African law requires game reserves to track their rhino populations using microchip technology. This tracking system allows rangers, conservationists and government officials to be more effective and proactive in their anti-poaching efforts. I was delighted to join the Shamwari team to assist them with such an important task!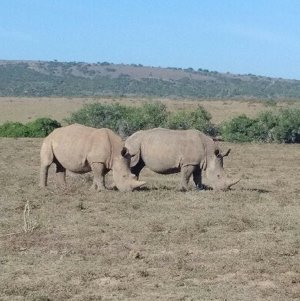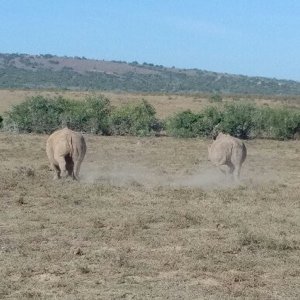 Left: our rhinos happily grazing. Right: both rhinos ran away after one was darted.
Our first step was to locate our rhino. Since the rangers and trackers had a general idea of the rhino's location, it didn't take long for us to find him roaming an open field with his sidekick. We needed to incapacitate the rhino to implant the microchip, so Dr. Johan loaded his tranquilizer gun and took aim at the rhino. Once darted, the rhino immediately ran in the opposite direction from us—a perfectly natural reaction to receiving a surprise needle in the behind! It took a few minutes for the tranquilizer to take effect, so we followed the rhino closely and watched him eventually pass out in some bushes.

Attending to our rhino after he passed out from the tranquilizer.
As soon as the rhino was down, we acted quickly. Dr. Johan put a mask on the rhino and prepared his microchip implanting tools. After getting a quick tutorial on how to implant the microchip itself, I went to work with Dr. Johan's close guidance. Once the microchip was successfully implanted, we packed up our gear and climbed into the vehicle. All that was left to do was for Dr. Johan to administer the tranquilizer antidote. Unlike the tranquilizer, the antidote works nearly instantaneously, so we needed to get as far away from the rhino as we could. After we had made some distance between the rhino and us we saw him get up and run off—presumably to go find his sidekick!
The thrill of assisting the Shamwari team on such an important conservation initiative was a life changing experience that I will never forget! I commend the men and women of Shamwari for doing such important work conserving rhinos so that future generations will be able to know this extraordinary species.
Wildlife Rehabilitation Centre Update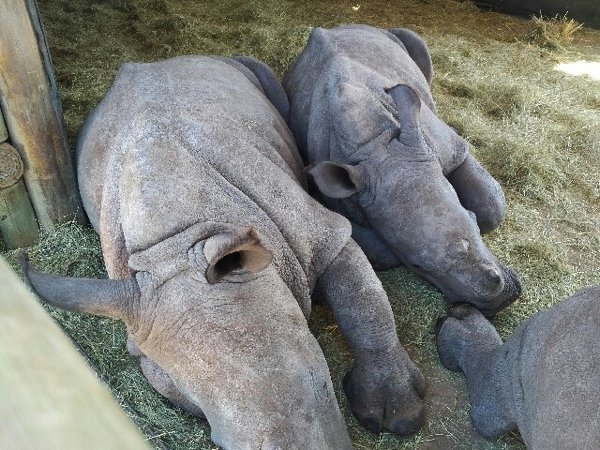 Baby rhinos enjoy a nap at the Rehabilitation Centre
Later in my trip, I made a visit to Shamwari's Wildlife Rehabilitation Centre to see how my favorite baby rhinos were doing. They have grown a lot since I was there in May, but their instincts were much the same: when the saw us approach, they quickly ran up to us looking for food! It wasn't their feeding time, so after a few minutes of excitement, all three rhinos decided to take a nap instead. Dr. Johan told me that the rhinos were progressing well, and will soon be ready to be released back into the reserve. This is an exciting development for Shamwari and shows that efforts to support rhino rehabilitation are crucial for preserving rhino populations as a whole throughout South Africa.
Interested in visiting Shamwari Game Reserve? On Tented Safari in Style, you'll spend three nights at Shamwari, exploring the reserve on exciting safaris and relaxing in luxury tented accommodations at Bayethe Lodge.