Help Save the Rhinos
June 19, 2014
If you have experienced a safari you are certain to agree that it is a magical journey of discovery into Africa's true miracle of nature.
While all of Africa's wildlife species have their own allure and attraction, for me it is perhaps rhino sightings that are most poignant because of the enormous threat to their existence due to the substantial amount of rhino poaching currently occurring in Southern and East Africa.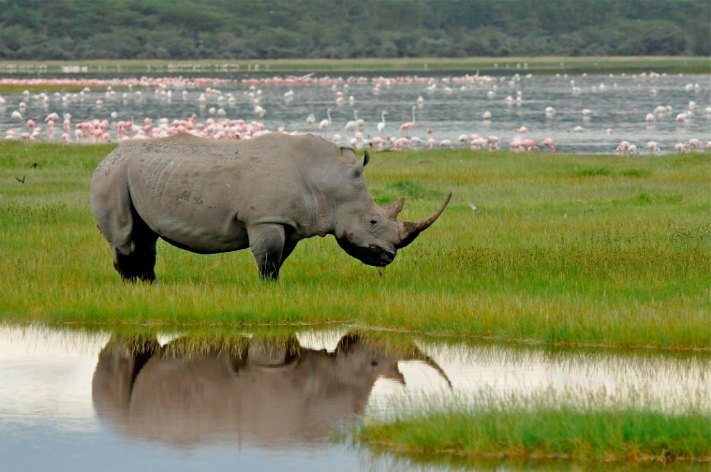 An encounter with these impressive creatures, 2nd largest land mammal after the elephant, as they lumber quietly through the bush, rouses quite a feeling of admiration. I have had many occasions to observe rhino on my safaris but perhaps the most awe-inspiring experience was having the opportunity to go on a walking safari in their vicinity! Being on foot fairly close to a rhino, as opposed to watching them from the height of a vehicle, really brings their imposing size and grandeur into perspective.
While rhinos are estimated to have been on earth for around 40 to 60 million years, the black and white rhinos found in Africa evolved around 6 million years ago from a common ancestor and are very closely related. That these magnificent animals have roamed the earth for so many years and now face such an uncertain future is undeniably heart-breaking!
The rhino poaching industry which supports the sale of rhino horns to markets in Asia, particularly Vietnam, has become a menace to the species and continues to prosper due to demand for its so called aphrodisiac properties. Of course these claims are totally false, the horn simply consisting of keratin, the same substance from which our own hair is comprised.
There are many renowned organisations now focusing their attempts on eliminating or at least reducing the incidences of rhino poaching.  In conjunction with Lion World Travel's 50th anniversary we have chosen to support the Endangered Wildlife Trust, South Africa,  in their endeavours to implement interventions at several stages in the poaching and wildlife trade chain.  Our commitment is to donate $0.50 for each time our "Help Save the Rhinos" web page, Facebook message or Tweet is shared. The promotional hashtags are #ShareIfYouCare or #50For50. Our goal is to reach 20,000 shares for a total of $10,000 to be donated to the Trust. So far we've reached approximately 7,000 shares. We are working hard to increase that number!
I hope that you will visit our "Help Save the Rhinos" web page and share it with as many friends and family as you can to help us reach our goal!  Together we can do our small share for the well-being and safety of these magnificent and ancient giants of the bush.
Thank you!
Lucille