Who Knew? 10 Fun & Interesting Facts About African Wild Dogs
March 14, 2016
African wild dogs are some of our favorite animals to see on safari. There is nothing quite like coming across a large pack of these graceful animals in the bush—their beautiful spotted coats of black, brown, white and yellow and their social nature make them a joy to watch. Read on for more amazing facts about Africa's "painted wolf".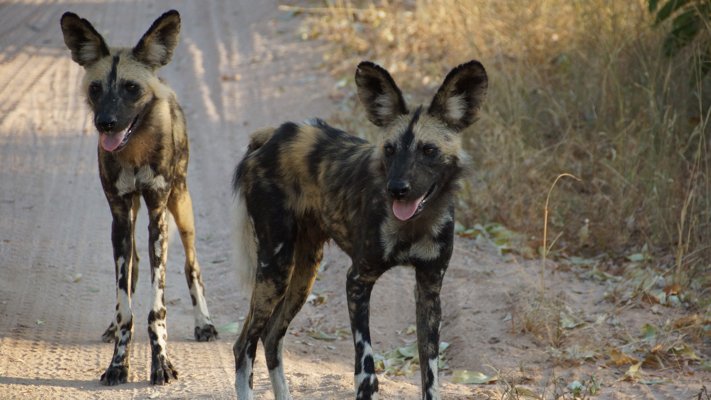 1) African Wild Dogs are known by many different names
The scientific name of the African wild dog is "lycaon pictus", a latin term meaning "painted wolf". This is the most common nickname for the African wild dog, but they are known by many other monikers including "cape hunting dog", "painted dog", "African hunting dog", "painted hunting dog", and "ornate wolf".
2) An African Wild Dog's Spotted Coat is Unique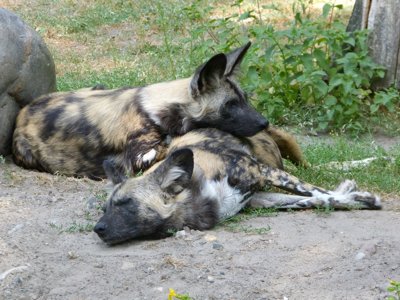 Each African wild dog has a unique spotted pattern
Similar to other great African animals with distinct coat patterns, no two wild dogs have the same spotted patterns—these are unique to individual wild dogs and help members within the pack distinguish between one another. The beautiful colors of their coat (black, brown, yellow and white) also helps wild dogs blend in to their natural habitat of grassland, savannah and woodland.
3) African Wild Dogs Are Incredibly Social
Wild dogs live in packs ranging in size from 6 - 30 members, making their packs one of the largest of the wild canines. Since wild dogs live in such close proximity with each other, they have evolved to be incredibly social. There is a hierarchy within a pack, led by a dominant breeding pair, but struggle is generally limited within the pack once this hierarchy has been established. Wild dogs communicate with one another through touch, tail wags and a variety of vocalizations that include a short bark (which can signify alarm), a howl (which rallies the wild dogs together), and a bell-like sound which can be heard over long distances.
4) African Wild Dogs Are Highly Intelligent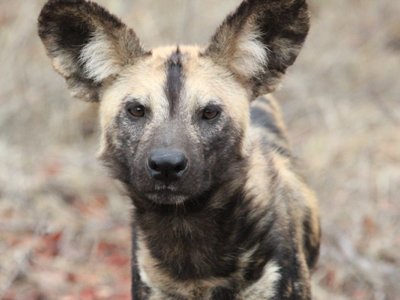 An African wild dog up close.
Unlike many other pack-hunting animals, wild dogs of a single pack rarely intimidate or fight one another for position; instead they exhibit behaviors that support the health of the pack over individual members. For example, younger members of the pack who conduct hunts will bring back food for the older members. Similarly, young cubs are raised by all members of the pack including both male and female members.
5) African Wild Dogs Are Wanderers
Wild dog packs roam large areas and rarely stay in a single place for long. As a result, wild dogs require large territories to thrive. Wild dogs in Tanzania's Serengeti, for example, have been known to roam an area over 900 square miles.
6) African Wild Dogs Have Unique Physical Features
Unlike their domestic counterparts, wild dogs only have four toes per forefoot. In addition, a wild dog's large, round ears allow them to keep track of pack members over long distances through audio signals.
7) African Wild Dogs Have Large Litters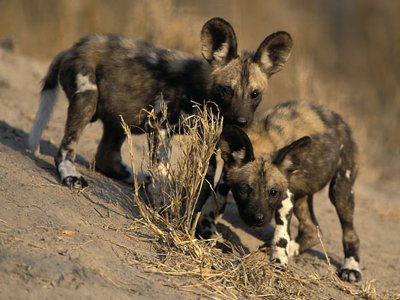 Two African wild dog pups
With litters of 2-20 pups, wild dogs have some of the largest litters of wild canines. Usually, more than twice as many males are born as females and, in a behaviour unique to wild dogs, when the pups reach maturity, the females leave the pack to look for mates while the males stay in their natal pack. 
8) African Wild Dogs Are Crepuscular
African wild dogs are most active during twilight—the period immediately before dawn and after dusk—making them "crepuscular". Twilight is a key time for wild dogs because their prey is the most active during this period and the cover of night gives wild dogs a hunting and camouflage advantage, making them more difficult to be detected by both predators and prey.
9) African Wild Dogs Are Expert Hunters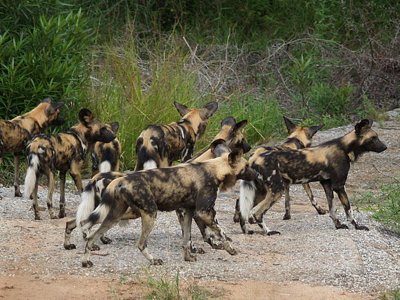 A pack of African wild dogs on the hunt
African wild dogs' prey consists of small ungulates such as impala, kudu, Thomson's gazelle, springbok and wildebeest. Before initiating a hunt, African wild dogs conduct a playful ceremony in which they circle one another, touching and vocalizing to get themselves excited about the coming hunt. Wild dogs are built for endurance—they can maintain speeds of up to 35 mph over a range of 3 miles, which allows them to outlast their prey. This stamina combined with smart hunting tactics, where some members lead the hunt close to prey, while others tactically circle the prey, results is an extremely high hunting success rate. Some experts predict that wild dogs are successful in 80% of their hunting attempts.
10) African Wild Dogs Are Endangered
African wild dogs have disappeared in many of the areas of their original range over the last few decades—they could once be found in over 40 different countries throughout Sub-Saharan Africa, but today are found in just 10-25 countries. At one point, the population of African wild dogs was estimated to be as high as 500,000, but is now down to just over 6,600 adults over a much reduced range. The main reason for the population decline is increased human development and encroachment on wild dog territory. Currently, African wild dogs are primarily found in National Parks and reserves where large areas of their original territory remain intact. Zimbabwe, however, has seen some success growing their population of wild dogs—they have increased the number in the wild from 400 to over 700 members in recent years.
As a traveler, you can do your part by traveling to national parks and game reserves that put resources toward protecting Africa's wild dogs. By booking with Lion World Travel, you can be sure that you are helping to support wild dog conservation in Africa. For more information, read about our TreadRight Animal Welfare Policy.
Sources