An Extraordinary Woman
May 6, 2014
Lucille Sive in Conversation with Thembi Mdluli
My first guest blog is a conversation with a very special lady and friend, Thembi Mdluli whose amazing dedication to the rural Huntington Community in South Africa where she grew up is truly inspiring and a lesson to us all. I know you will feel as moved and humbled as I was with Thembi's story.
Please enjoy and see how you can play a part in helping this community!
Thembi, I would like to thank you for agreeing to be a part of my blog!
Please tell us a little about yourself, your family and your childhood.
I was born in 1975 in a small rural community called Huntington where I am currently involved in community projects. I was raised in a family of 10 children including myself. My Dad married 2 wives which was a common practice in our culture. I am married with 3 children – a 19-year old girl (Jade) who is currently studying at the SA College for Tourism and would like to study Law in future, an 8 year old boy (Thabang) in grade 3 and a 5 year old girl (Nthabiseng) who is in preschool. I enjoy watching my children grow and every development stage has taught me a lot – one of the main lessons is that every child has a right to education, good nutrition, health facilities and not to mention parental love and care. Unfortunately, due circumstances, in many households, not all the needs are met.
My husband who is currently running our small Tour Company has supported me from the first day I opened my heart to welcome all the needy children. I went to Primary School at the local school in 1980. During that time there were no preschools in any of the rural communities. There was more than 800 learners in our school with 6 classrooms for the upper grades. I attended class along with the first 3 grades under a tree, these children often stayed away from school during the rainy season and sometimes we had to share a classroom (when there was one available) with the learners in higher grades – meaning that there was no room for the Teacher to move in. The worst part was that we had no stationery at all. I did not even know what a crayon looked like! We always wrote on the dirt  - including all classwork and even tests, yeah! We had no homework.
My Dad later bought me a pencil and that was the happiest moment of my life. My mother found a piece of string and I tied it around my neck and made sure that I collected scrap paper to write on. That was one of my treasures and I had to look after it. This never bothered any of us at school because we thought that it was the way schooling was meant to be. We were also not exposed to well developed schools. The Amarula tree that was my first classroom is still at the Hundzukani Primary School.
In 1987, I moved across to the High School which is at least an hour walking distance from my village. For 5 years I walked for 2 hours everyday to and from school. Because the school accommodated learners from about 10 villages with a population of more than 6 thousand people each, all the grades were divided into at least 2 or 3 classrooms of more than 70 learners each. Again, all the lower grades had to learn under the trees. The new classrooms were completed in 1989. The hunger and  love of education made us appreciate every day of school.
I then completed my grade 12 in 1991 and I was offered a postion in the same High School as a Temporary Teacher for one year. In 1993, I joined the College of  Nursing where we were also given an opportunity to work in different hospitals and different wards. I really have a lot of respect to all the Nurses for all they do in hospitals. This was not my type of work and I moved to join the Hotel Industry in 1995.
I joined Sabi Sabi Private Game Reserve without any knowledge of dealing with guests. I helped to wash dishes and cleaned the storerooms for 5 days and was moved to serving tea and coffee in the dining room. I was then moved to a waitress after a month. After a couple of months, I moved over to the Front desk and then to Assistant Lodge Manager at Sabi Sabi Selati Lodge.
In 2002, I joined Lion Sands as The Front Of House Manager. Being part of a family-owned lodge changed my life forever. A little voice was always talking to me from somewhere. That voice was my own conscious . The voice asked me why the education level was so poor in my own village, why there were less than 20 children in the local preschool. This bothered me everyday until I decided to one day share my dream of helping the villages with the Director of our lodge – Mr Nicholas More -  who allowed me to get involved on one condition: that my position in the lodge stayed as my first priority. That was the beginning of the long journey that created smiling faces in my village.
Together with The Lion Sands Family, we worked hard to improve Henna Preschool facilities from 2 old classrooms to a beautiful well equipped preschool. We increased the enrolment from less than 20 children in 2002 to 195 children this year.
In 2003, we identified 10 orphans at Henna Preschool and this led me to resign from my full-time paying job to working as a volunteer in the village where I started Huntington HIV counseling clinic. Together with 9 volunteers, we reached every household at Huntington village giving HIV / AIDS awareness and encouraged the community members to do an HIV test. In 2004, the organization became registered as Huntington Home Based Care (Non Profit Organization).
I also realized that my village had a high rate of teenage pregnancy and all the teenagers had to stay away from school to raise their babies. This pushed me to start New Beginnings Day Care to take care of all the babies while their single teenage mothers go back to school.
I would like to take this opportunity to thank the people who contributed towards these community projects that are closer to my heart, for all their love, efforts, time and contributions:
The Lion Sands family, all of our donors, my friends, my parents, my three brothers and sister, my husband, and lastly – my 3 kids who made me become what I am today (a loving mother to many children and A proud Community Development Manager of a famous lodge around the world).
Thank you to a very special person for trusting me. Somebody I will never forget in my whole life - Mr. Nicholas More.
What do you like best about your job as More Family Foundation, Regional Manager?
My job is not about earning a salary only but I am paid to develop my own village. My life is about making the lives of my community members better.
What special memories, moments or experiences with significance to the Huntington Community or Henna Preschool can you share with us?
In 2003, we increased the Henna enrolment from less than 25 children to 175 children. This was not only a challenge as we did not have enough classrooms but heart-warming because I knew that the community members started taking education as their first priority.
Watching the children use the flushing toilets for the first time made me proud of who I am.
I was fortunate to be one of the Lion Sands' employees who worked very close to Mr. Nicholas More. Every moment I spent close to him was a lesson – I learnt that no matter how old you think you are, how wealthy you think you are or how famous you are, we all look the same in front of the children and in God's eyes.
In February this year I decided to do something I have never done before – I arrived at Henna Preschool at 07h00 just when they opened the gate. I sat in front of the kitchen where I was able to see everyone enter the gate and watched every child arrive to school, all the teachers arriving and getting their classrooms ready, all the parents bringing their children to school, the cleaners and cooks doing their usual work and starting to cook for the kids, the local people coming to fetch water, even the chickens from the neighborhood coming for food. This is what I have always wanted to see. I started crying. One little preschool has brought the whole world together – Henna was built through donations from people of all nations.
Approximately how many people reside in Huntington Village?
About 6,000 people
How many children are there now at Henna Pre-school?
130 children. The number is rising every day and this will definitely change soon
What will happen when all these children are ready for Primary School?
All of the 4 year old children will be dressed as if they are from University – we also call this our graduation ceremony. We invite all the parents, the teachers at Primary School, The Department of Social Development, our Donors and The Lion Sands family to join us for the celebration.
Because some of the children do not get a Christmas present at home, we arrange for a day where the kids are taken out for a 3-hour game drive at Lion Sands with a lot of treats and gifts.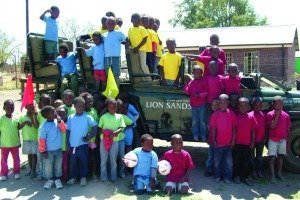 Children of Henna Preschool.
What resources does Henna still need urgently at this stage and how can our clients help?
Greenhouse for New Beginnings Day Care where all the kids who goes to Henna are accommodated as babies
Wall mounted fans to make the classrooms cool during hot weathers
Heaters to keep the classrooms warm in winter
Jungle gyms for both Henna and New Beginnings
Lawn and fast growing trees
If visitors want to bring or send something for the Preschool or Nursery, what do you suggest they bring/send?
These items are relatively light and easy to pack or send: pens, pencils, colored pencils, crayons, markers, dry eraser markers, chalk, handheld pencil, sharpeners, rulers, erasers, protractors, compasses, exercise books, world maps, math flash cards, world flash cards, alphabet flash cards, science educational wall charts, language educational wall charts, human body educational wall charts, language/grammar text books, working laptops, solar-powered working laptops, printers, printer cartridges, flash drives/memory sticks, USB cables, age appropriate story books, coloured construction paper, glue sticks, watercolour paints, craft scissors, Chess sets,Scrabble, connect four, soccer balls, netballs, basketballs, tennis balls, jump ropes, frisbees, inflation pumps, soccer team uniforms, new or used children's clothes, new or used children's shoes, stuffed animals/soft toys, band-aids, antibiotic ointment, diapers, currently used printer cartridge for SX10 Canon and Canon MF4780w, lamination machine, white A4 paper, lamination paper.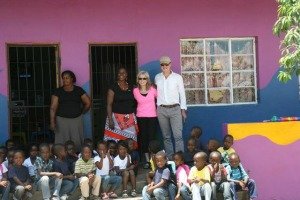 Thembi and Lucille at Henna Preschool
If you are coming on safari to any of the Lion Sands Lodges, please pack your contribution and bring it with you. The lodge staff will send it on to the school or nursery, or we can even arrange a community visit for you - a truly moving experience! Otherwise please feel free to mail a package with your contribution. Any of our Africa Specialists will be able to provide the address.