Who Knew? 7 Happy Hippo Facts
February 20, 2018
By Lucille Sive
The hippopotamus is one of Africa's most iconic creatures and one of Earth's most enduring animals, with ancestors dating back over 155,000 years. There's more to these 'river horses' than meets the eye and we invite you to get to know the hippopotamus on our blog!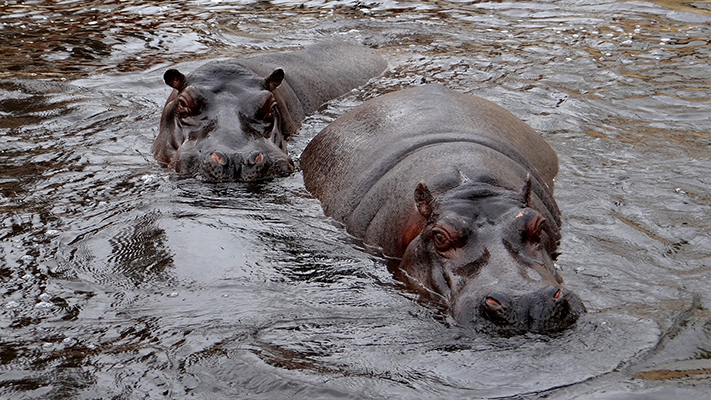 1) Hippopotamus literally means river horse
In ancient Egypt, hippos were frequently seen along the Nile River. This proximity led to the Egyptians to revere the hippo in their culture. When the ancient Greeks visited Egypt they named the creature 'hippopotamus' because 'hippo' means horse and 'potamus' means river. The name stuck and that's why today the hippopotamus can also be called "river horse".
2) Hippos are communal animals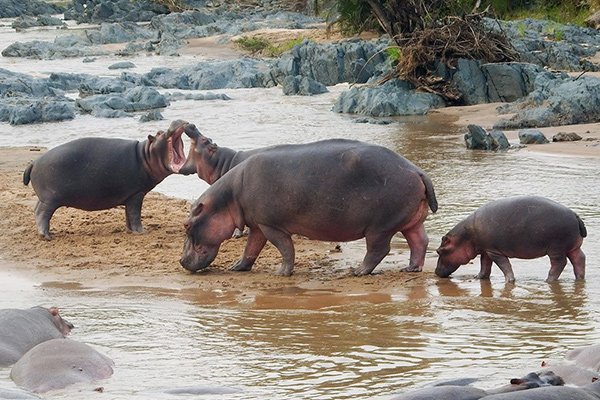 A hippo pod. Photo: Denise Schubert, Lion World Travel guest
Hippos live in extended family groupings called pods. These pods include a bull, the dominant male who acts as the head of the pod, several female hippos and their young. The pod also includes some related male hippos, which the bull hippo merely tolerates.
3) There are two species of hippo
Although hippo species have existed on Earth since before the stone age, 155,000 years ago, only two species of hippo remain today. They are the common hippo, the large herbivorous, mammals found across Saharan and sub-Saharan Africa, and the pygmy hippo, a smaller mammal native to the rainforests of West Africa.
4) The hippo is the third largest land-based mammal
An adult male hippo weighs an average of 3,310 pounds and can be up to 17 feet in length. This impressive stature makes the hippo the third largest terrestrial mammal, behind only the elephant and rhinoceros in sheer size. Despite this large, stocky appearance, don't underestimate a hippo's speed! They can run up to 19 miles per hour over short distances.
5) Hippos have really flexible jaws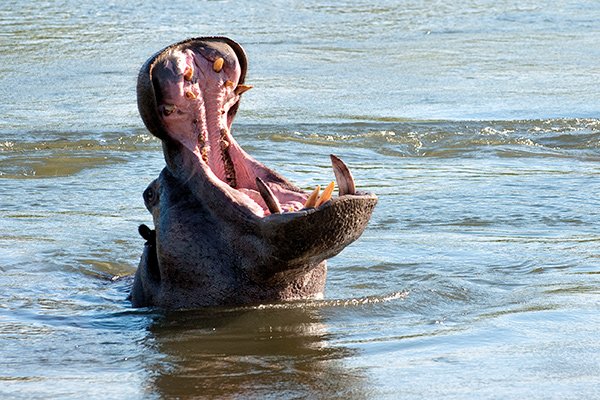 A hippo's flexible jaws on display
Hippos have the ability to lock their jaws at nearly 180 degree angles. This feature, which makes a hippo look like it's yawning, is particularly important when hippos end up in conflict with other animals. The wide opening angle means that hippos can produce a bite force of 1,800 PSI—enough to break bones and snap wooden planks in two.
6) Hippos are vocal
When you come across a hippo pod on safari, you will notice that they are not a quiet bunch! Quite the opposite in fact, this is because hippos like to "chat". They have two vocalizations: noise made through the air and noise made while submerged under water. When heard over the air, this sound is a sort of honking that has been described as sounding like a deep laugh.
7) Hippos don't swim, they bounce
Hippos may spend most of their days in water, but they don't swim. Instead, hippos either walk along the base of the river or, if the water is deeper, they gallop or leap from the riverbed and used their buoyant bodies to float to their destination. This 'bouncing' is relatively rare in the animal kingdom, only a few other animals, such as the armadillo bounce through water instead of swimming.