Black Friday / Cyber Monday 2019 - $3999 Luxury South Africa Safari - With Air & Upgrades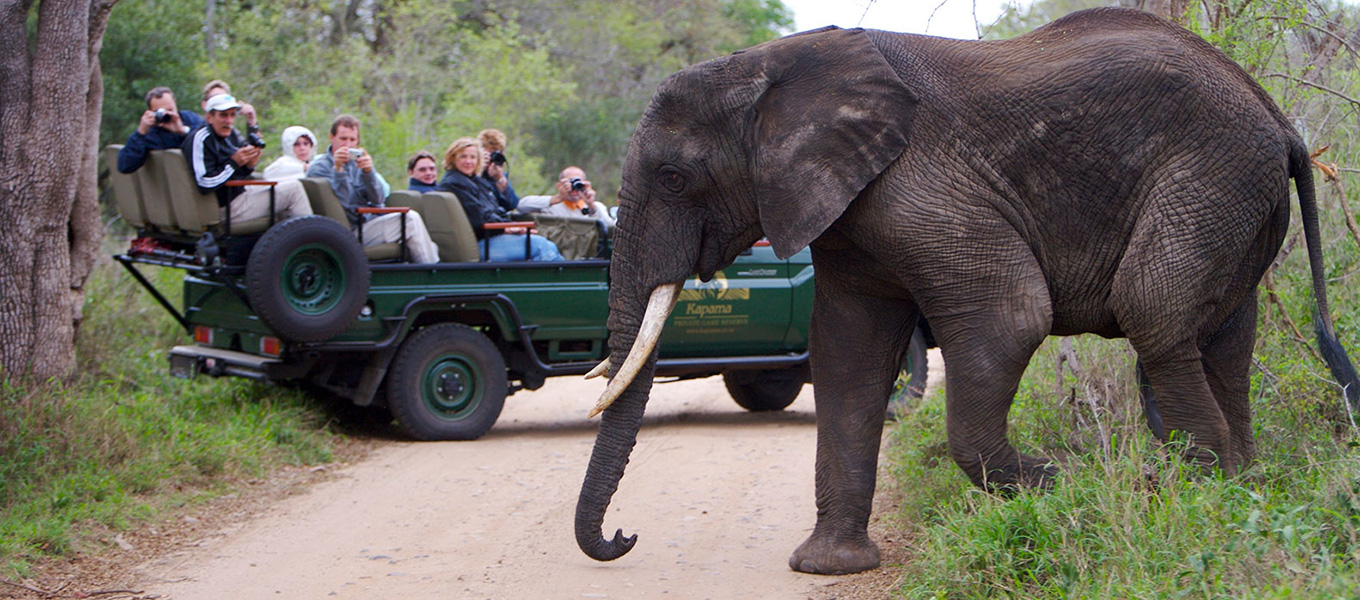 From US$4499 US$3999*  |  9-Nights  |  5-Star Luxury  |  With Air & Free Upgrade
Exclusive five-star savings on a five-star luxury safari. This Best of South Africa safari is limited to small, intimate groups of 12 of fewer travelers and includes savings of US$500 per person, safari lodge upgrades worth up to US$2200 per person, abundant game drives, exquisite dining in Cape Town, and international airfare from JFK Airport in New York to Cape Town, South Africa via Johannesburg!
Luxury Safari Highlights:
Roundtrip international economy airfare on South African Airways from New York (JFK)
Airfare in South Africa from Johannesburg-Cape Town-Johannesburg-Hoedspruit-Johannesburg
Exclusive: Complimentary upgrade from Kapama River Lodge to Kapama Karula, Kapama Southern Camp Villas or Kapama Buffalo Camp (date specific, details below)
Experience Cape Town at the luxurious Twelve Apostles Hotel & Spa in Cape Town, including a dinner at Azure Restaurant
Beverages on Safari - local alcoholic and selected premium beverages included during your stay at Kapama
Six Open-Air Safari Vehicle Game Drives searching for Elephant, Lion, Rhino, Leopard, Giraffe, Cheetah and more
Exceptional five-star service and luxury throughout your entire safari
Small intimate groups, typically a maximum of 12 people total; and maximum of 6 people per safari vehicle
Optional: A luxurious Victoria Falls in Style add-on from US$1999 per person
Rare High Season (July) departures available at US$4699 per person

---
Choose Your Complimentary Upgrade - Valued up to US$2200 per person!
---
KAPAMA KARULA
US$4499 US$3999*
High Season (July) Dates @ US$4699*


+ Upgrade Value of US$2200/person

KAPAMA SOUTHERN CAMP - VILLAS
US$4499 US$3999*
High Season (July) Dates @ US$4699*


+ Upgrade Value of US$1200/person

Karula upgrade is available for these dates in 2020:

April 22 *ALMOST SOLD OUT*
July 2 - High Season @ US$4,699
July 13 - High Season @ US$4,699 *SOLD OUT*
August 31
September 4 *WAITING LIST*
September 14 *SOLD OUT*
November 5 *WAITING LIST*




Luxury Villa upgrades are available for these dates in 2020:
April 7
May 11
May 21
July 9 - High Season @ US$4,699
July 19 - High Season @ US$4,699
August 21 *ALMOST SOLD OUT*
September 10
October 23 *WAITING LIST*
November 15
November 29

KAPAMA BUFFALO CAMP
US$4499 US$3999*


+ Upgrade Value of US$330/person

VICTORIA FALLS LUXURY ADD-ON FROM
US$1999**


Explore this Natural Wonder of the World

Buffalo (Tented) Camp upgrade is available for these dates in 2020:
March 15 *BOOK BEFORE JAN 1*
October 11 *WAITING LIST*

Stay at the Houghton Hotel in Johannesburg, then spend two
nights at the Stanley & Livingstone Hotel in Victoria Falls.
Enjoy a Zambezi river cruise and guided tour of the falls.
Cap off your African adventure in style!
---
Book this Safari Special Today
Call our Africa Specialists
1 800 387 2706
---
Not in New York City?
Coming from elsewhere in the US or Canada? We have Airfare Options!
Add domestic roundtrip flights from 38 other US cities to JFK, prices start at US$200 per person. Flights from Canadian cities to JFK also available at great rates, contact us for details and we will get you on this South Africa safari!
---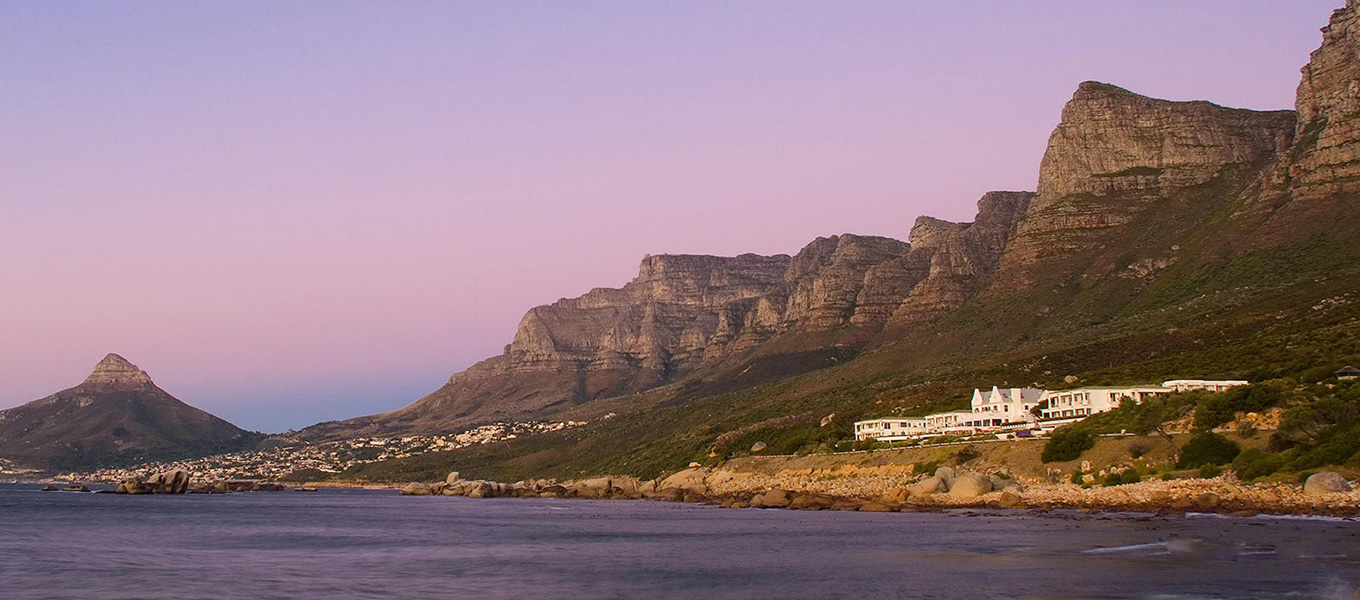 Whichever safari lodge upgrade you choose, your Best of South Africa adventure starts with 4-Nights in Cape Town, with the magnificent Twelve Apostles Hotel & Spa as your base of exploration. Your options are virtually limitless - visit famous Table Mountain, go on a winery tour, see African penguins at boulders beach, and enjoy the dining and entertainment of Africa's most popular, vibrant city.
---
Kapama Karula - Beyond Luxury
A US$2200 per person upgrade
The five-star Kapama Karula is set on the banks of the perennial Klaserie River and is the reserve's most secluded and prestigious lodge, representing the pinnacle of luxury 5-star safari accommodation. The spacious suites all have opulent en-suite bathrooms featuring indoor and outdoor showers, his and hers basins and a bath. The Superior Villas are wrapped by glass sliding doors, allowing seamless views. Each Villa has its own outside deck area, full-sized heated swimming pool and sun loungers for relaxation. Standard in each suite are minibars with an extensive selection of wines and champagne, Nespresso coffee machines, safes and wall-mounted international adaptors.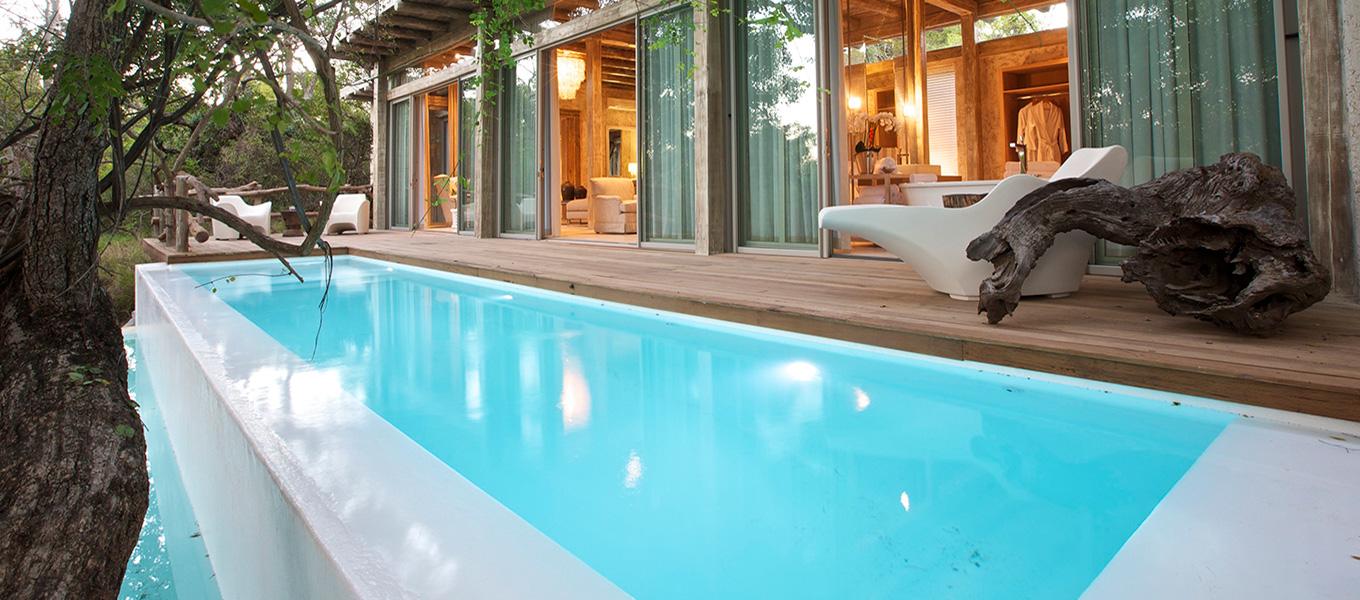 In addition to luxurious villas you may not want to ever leave, the Kapama Karula Spa and Wellness Centre is available to you if you want some pampering. A peaceful oasis for anyone seeking optional (at your own cost) massage and body treatments, it is among the best in all of South Africa. A fitness centre, library, lounge and spacious dining area round out the amenities at Karula.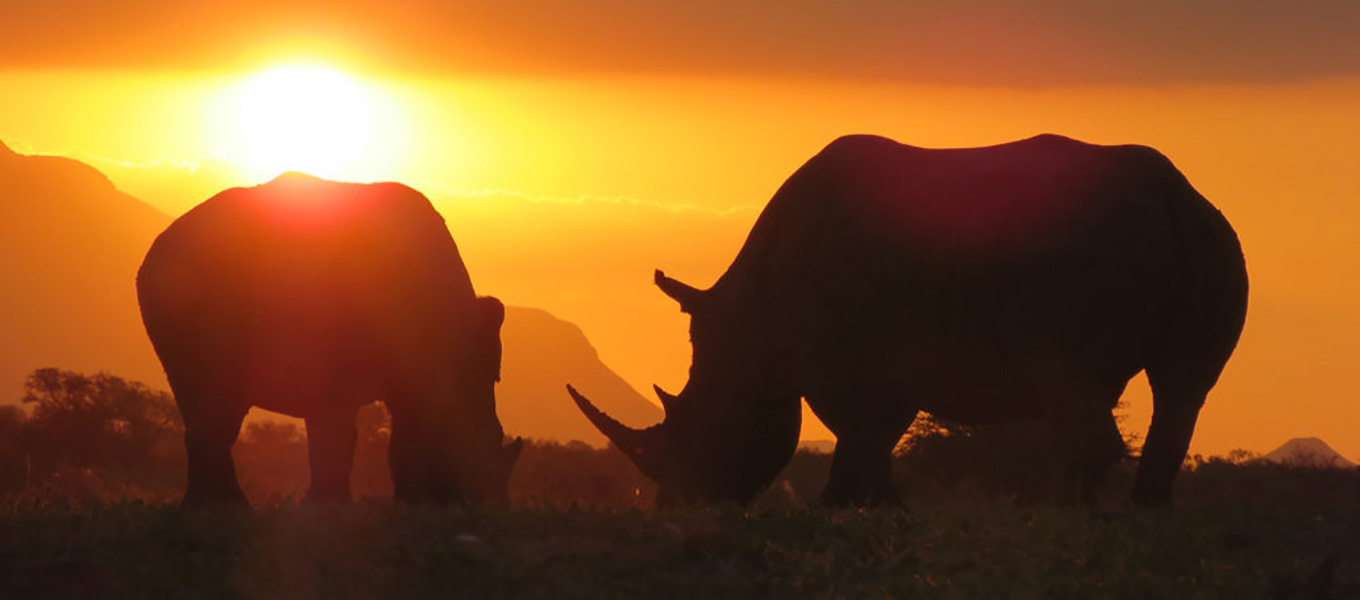 ---
Kapama Southern Camp - Lost in Africa
A US$1200 per person upgrade
Kapama Southern Camp offers five-star luxury game lodge accommodation. The luxury villas have their own private lap pool, inside and outside showers, large minibar and Lavazza coffee machine. Plenty of privacy for the romantically inclined, or large enough for a special luxury family adventure, Southern Camp is lavishly appointed to meet the needs of any traveler. Enjoy the splendid vistas over the natural waterhole frequented by animals throughout the day, as you sip your favorite cocktail from the deck around the welcoming rim-flow swimming pool or in the elegantly decorated lounge.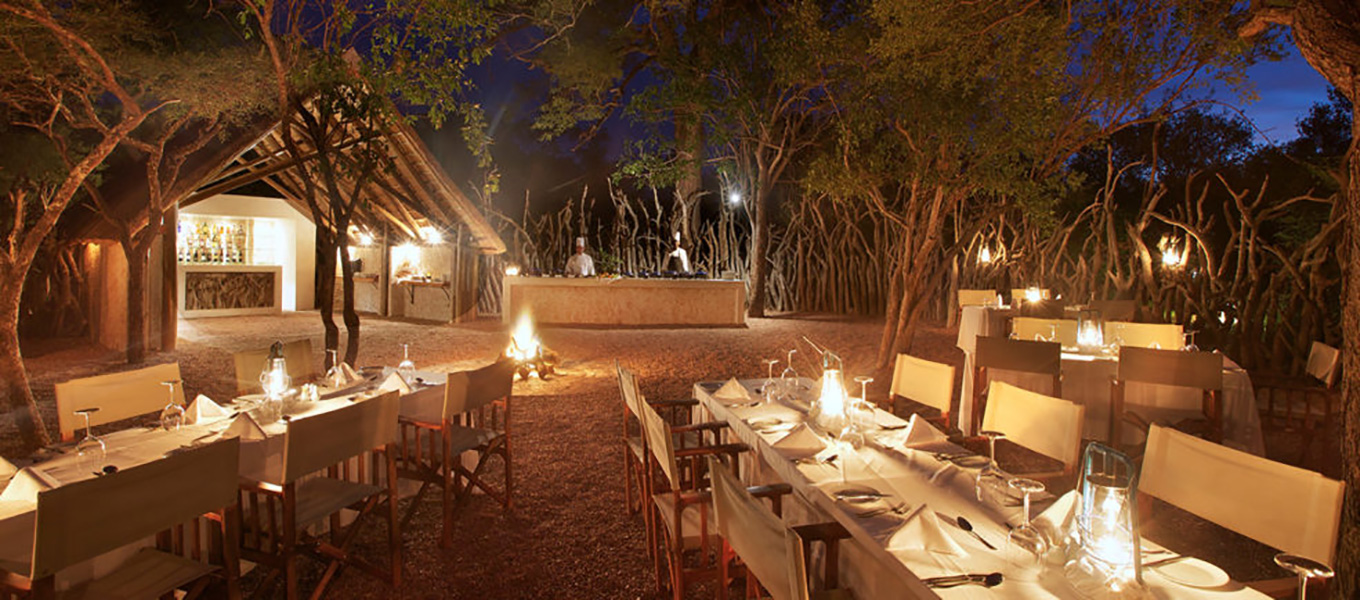 The large communal pool area, and open-air dining allow for plenty of socializing, but are spacious enough for those who want to retreat to a quiet corner as well. As with all Kapama properties, a wide range of fine wines are available, and virtually any dietary requirements can be catered to, including kosher meals. (Must advise at time of booking of any special requirements.)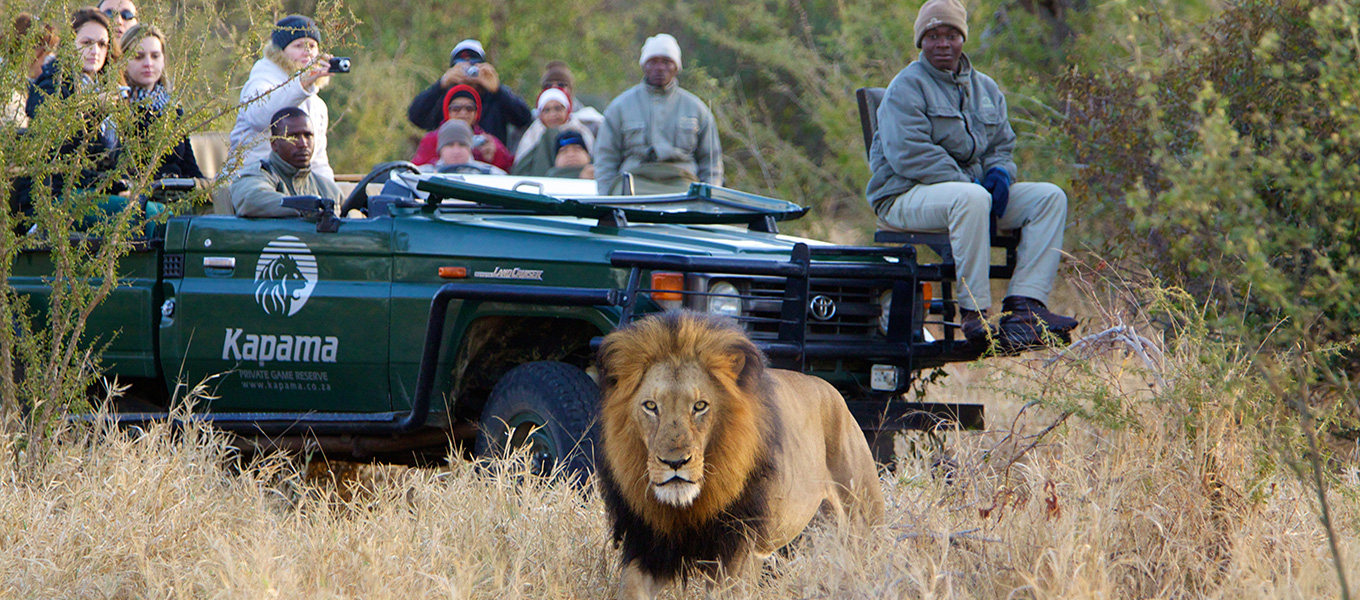 ---
Kapama Buffalo Camp - Home in the Trees
A US$330 per person upgrade
Reminiscent of a traditional African safari camp from a bygone era, Kapama Buffalo Camp offers the ultimate five-star luxurious tented accommodation experience. All comforts are catered for in the plush tented spacious suites that are set on stilted wooden decks built on an elevated riverbank. Each en-suite tent can accommodate two people, offering everything and more than you'd expect in a luxury safari lodge – including a well-stocked minibar, Nespresso coffee machine and lock-up safe. Just 20 guests can be accommodated at Buffalo Camp, and the focus is on personal attention, superb service and complete comfort.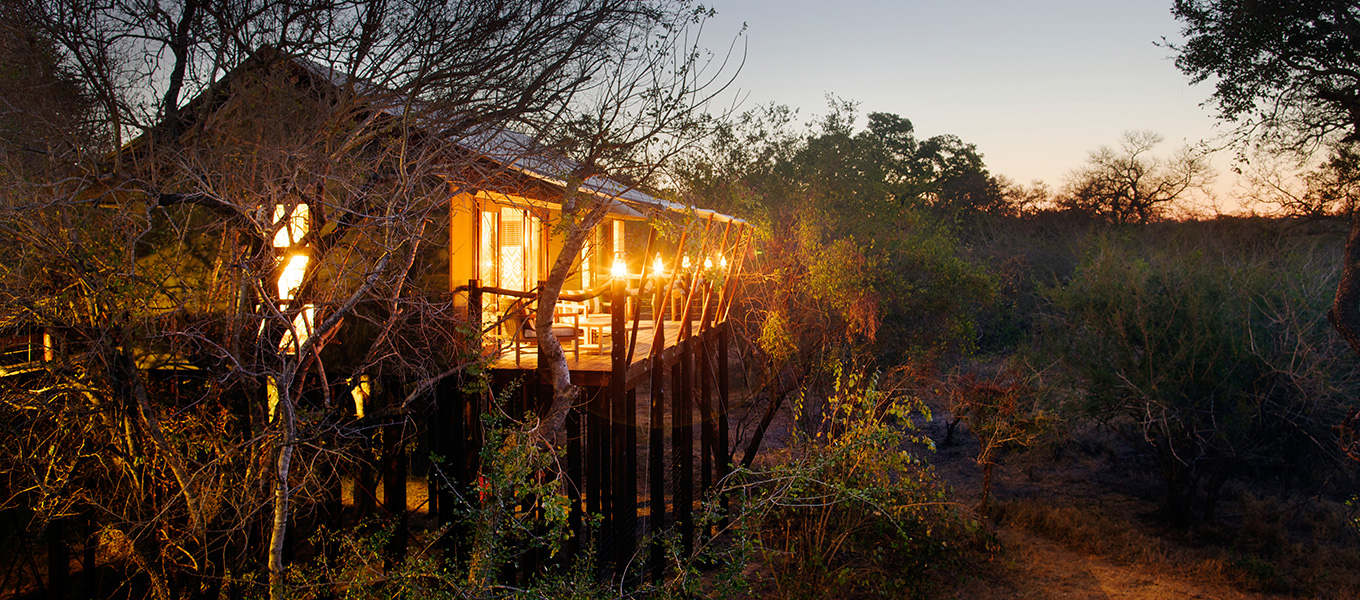 An intimate lounge and sundeck provide plenty of opportunities for relaxing amidst the African wilderness, birdwatching, or settling in to read a favorite book. Don't be surprised if you spot plenty of animals simply from the private deck of your tent or the main lounge area, Kapama Buffalo Camp is perfect for any wildlife lover.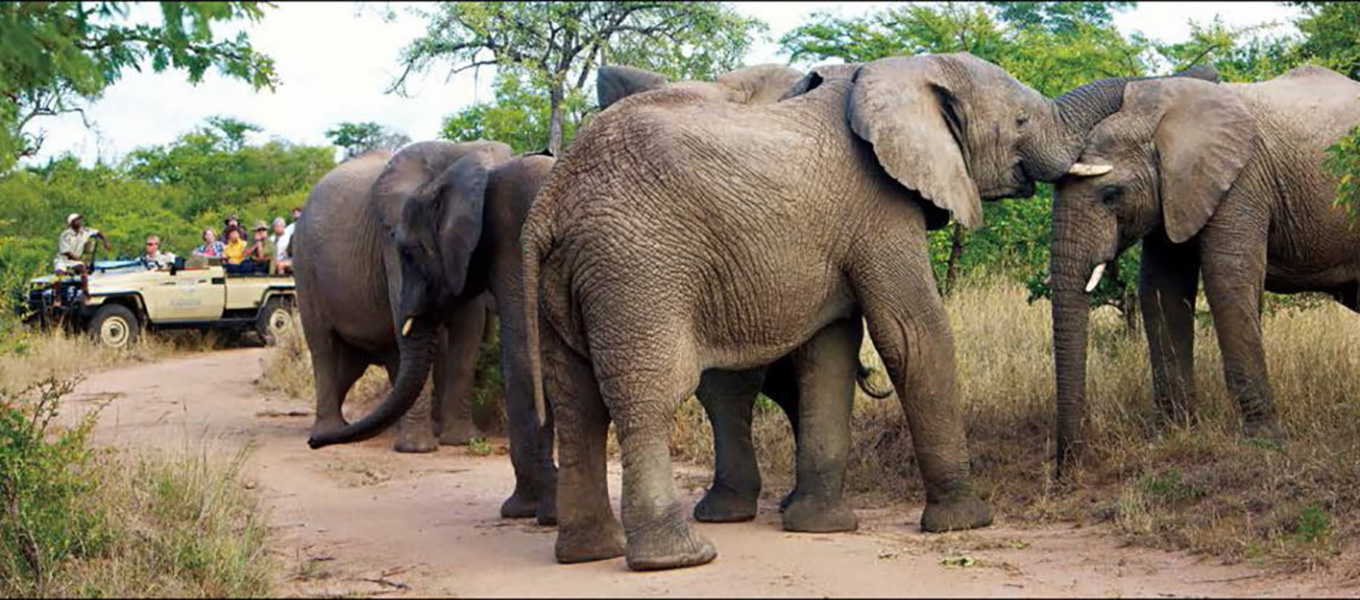 ---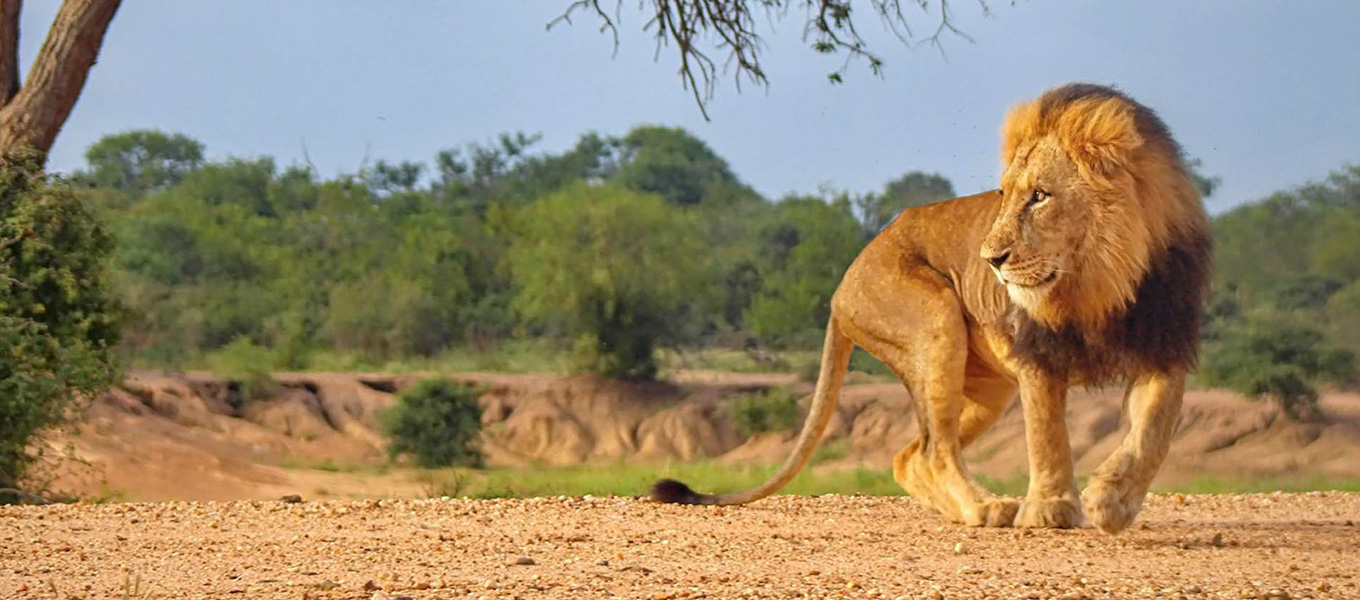 ---

---
*Prices are in US Dollars and are per person based on double occupancy accommodations and include fuel surcharges, Government taxes, departure fees and September 11th Security Fee. US$3,999 price shown is valid for Best of South Africa dates in 2020 excluding July departures, which are considered High Season and are at US$4,699. Single supplement fee of US$990-1500 applies for Best of South Africa safari solo travel bookings. Minimum two travelers per departure for single supplement to be available. **Add-on prices are in US Dollars and are per person based on double occupancy accommodations. Single supplement fee of US$650 applies for Victoria Falls in Style (Houghton & Stanley and Livingstone) solo travel bookings. Minimum two travelers per departure for single supplement to be available. Departures have very limited space, upgrades are available on a first-come, first-served basis. The Victoria Falls in Style package can not be booked on its own, it must be combined with a Best of South Africa booking. Prices are subject to change, this offer may expire at any time. Photo credits: Kapama. Lion image credit: Ranger Sean Jone at Kapama.